July 17th, 2011
By
I had a free day yesterday to rest and enjoy the island, and I spent the afternoon with the Ihara family circling Pohnpei and admiring its sites and learning about its culture, language, and history.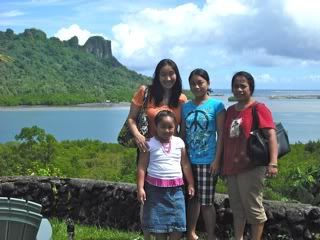 The highlight of the tour was the trek to see the Nan Madol ruins, which are on many "wonders of the world" lists, and one of the most amazing places I have ever been. Legend has it that it was built by magic, and I believe it. How else could thousands of rocks, each one weighing thousands of pounds, be moved across the island and stacked one on top of the other to form a massive "house for the King?"
As we drove around the island, I saw a young boy cracking open a coconut and I instantly thought of Noel, a fifth grade student that I had six years ago. Noel was from Micronesia and had one of the biggest hearts of any student I'd ever known. I spent all year trying to acclimate him to school in Hawaii and immerse him in English, and I wish now that I spent more time asking him about the coconut trees that he climbed from the age he was 3. He told me about it once, when we were on a bus and passed a coconut tree. He said that he missed climbing the coconut trees and cracking them open, because that's what he used to do every day in Micronesia. There weren't enough coconut trees to climb in Hawaii, he told me. I wish that I had found him a coconut, asked him to crack it in front of the whole class, asked him to teach us something, made him our hero for the day.
When we passed a shop selling handicrafts, I thought about Jackson, a fourth grader that was in my class two years ago who always made me smile with his bright, bigger than life personality. His family was also from Micronesia, and they presented me with a beautifully handcrafted woven lei as a Christmas gift. Though I appreciated the lei and hung it in our classroom, I wish that I had invited Jackson's parents into our classroom, had them demonstrate the weaving, shown them how much I valued and appreciated their culture and all of the experiences they had and we didn't. The lei that the Wajar family made me is at home now, but I'm going to take it back to school and hang it as a powerful reminder to slow down and take the time to not only teach, but learn from my children and their families. It's a reminder to show all of my children that each one of them have gifts to share with one another. I hope to help them open their eyes, their minds, and their worlds the way that mine have opened in the past few days here in Pohnpei.
---