Environment, Environment, Environment
June 27th, 2011
By
I have been reading Debbie Miller's book, Teaching with Intention, to give me fresh ideas for the upcoming school year. Summer is the time when I reflect on my practice, recharge, and rethink what works and what needs improvement. I am currently obsessed with creating a new (physical) classroom environment worthy of the renovations that just took place this summer. I CAN'T WAIT to get back into my classroom (hopefully I'll be cleared to go in this week), unpack those 97 boxes I stuffed and stacked a month ago, and arrange our classroom.
Chapter 3 of Miller's book is titled, "Environment, Environment, Environment." Miller writes that it's important to create a classroom environment that reflects your beliefs, and suggests asking a colleague to step inside your classroom, look around, and answer the following questions:
* What do you know I value?
* What do you know about what I believe about teaching and learning? What's the evidence?
* What do you know about the kids in this room?
I will certainly keep this in mind as I set up the room, and will be taking photos to share with you! Here are some things I've been thinking about and would love your feedback on:
* How do you set up your desks to encourage collaboration but also to maintain focus during class discussions and independent work times?
* Where do the students' bags go?
* How do you create a "warm and cozy" environment?
* How do you organize your classroom library?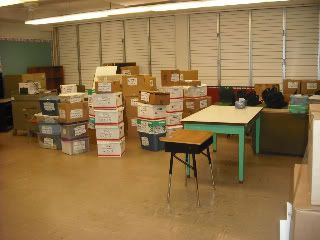 My classroom on May 29, 2011, right before renovations. Stay tuned for updated photos!