Island Hopping to Pohnpei
July 16th, 2011
By
I spent yesterday island hopping, and woke up today, Sunday (I lost a day), in peaceful Pohnpei. I'm here representing Hawaii (and presenting a lesson) at the Pacific Educational Conference, held once every two years. A special thank you to PREL (the Pacific Resources for Education and Learning) and Continental Airlines for sponsoring me and providing me this once-in-a-lifetime opportunity!
I am meeting the other Pacific Teachers of the Year on Monday, and the official conference begins on Tuesday. I am so excited to talk and share experiences, culture, and educational information with teachers from across the Pacific. Many teachers from Micronesia have already arrived, and I can't help but think about the sweet and eager Micronesian students that I've had in the past. I know that I'll learn so much here that will help me further connect with my future Pacific Island students.
I thought I'd share a few photos from my long journey here.

After a 4 hour and a half hour flight, we landed in Majuro, where I got out to stretch and take a few photos.

Our next stop was the island of Kwajalein, but we were not allowed to deplane or take photos there (military regulations). I did get out at our next stop, Kosrae, for a few minutes!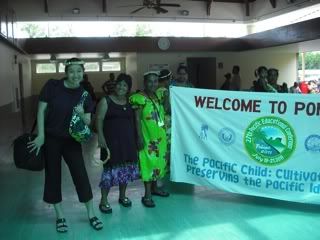 And finally, Pohnpei! I was greeted with haku lei and lots of friendly faces.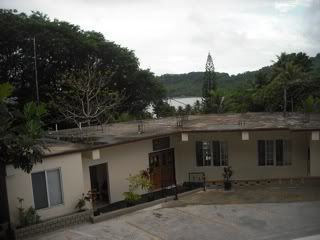 The view from my room in Pohnpei (I'm heading to the restaurant shown here in a few minutes for breakfast)

What a small world! The Ihara family (residents of Pohnpei) is related to a friend of my uncle, and treated me to a special Chinese dinner last night (at the only Chinese restaurant on the island). They'll be taking me on a tour of the island this afternoon
More photos and sharing to come!